Across a Small Distance
crossing proximities

(2021)
---
"Across a Small Distance" is a performance project first developed under Feelers, a platform for incubating explorations that weave performance and technology.
Despite technology often bearing the need to cross vast distances or have far-reaching access, my collaborator and I wanted to be conscious of scale, and thus focused on the small. Riding the undulations of the pandemic in personal and professional settings, we realised that in these times, even tiny things and connections with those close to us are made difficult – and still, our energies to close those gaps are in short supply.
Even across a small distance, what is distorted across the arc of physical and digital space traversed? What counterweights must we apply to return them to form?
Collaborator: Chew Shaw En
Process Documentation:
Feelers
Incubated under:
Feelers
First performed at:
starch
Light Gets In
sightings from afar
(2020)
---
First conceptualised in 2020 for an exhibition at the foot of Mount Fuji, "Light Gets In" thinks through the looming mountain as a metaphor, noting its symbolic and geographic weight in the physical, emotional, and mythological landscape of individuals, communities, and cities. Created amidst travel restrictions, the work is scored as a relay of 3 prompts across 2 countries:
1) for residents in Japan – to write or dialogue with the artist on their acquaintanceship with Mount Fuji, alongside a photo of the mountain (visible or otherwise) from where they are,


2) for myself and local friend-participants – to go on field trips to try seeing Mount Fuji from Singapore, and


3) make a composite image of the Singapore landscape alongside the images received from Japan.

Gathered here are sentiments and moments that surfaced during the exchanges, alongside the artist's reflections on this exercise of attempting to face, look, and plot across a distance.
First exhibited in:
Fujinoyama Biennale 2020
; then at
ON/OFF/SCREEN
, Deck, Singapore
Project website:
www.lightgetsin.cargo.site
(Eng) /
www.lightgetsinjp.cargo.site
(Jap)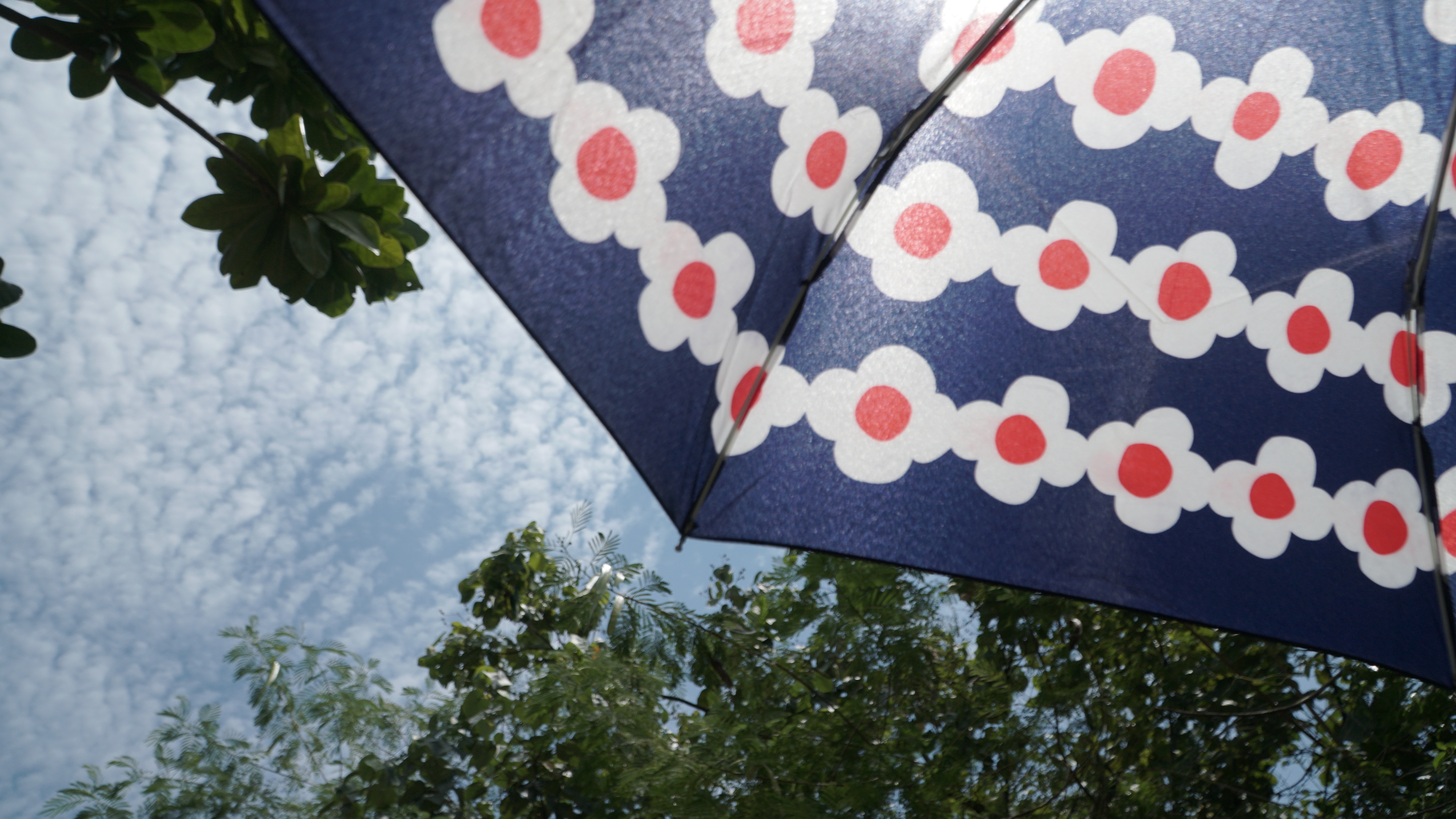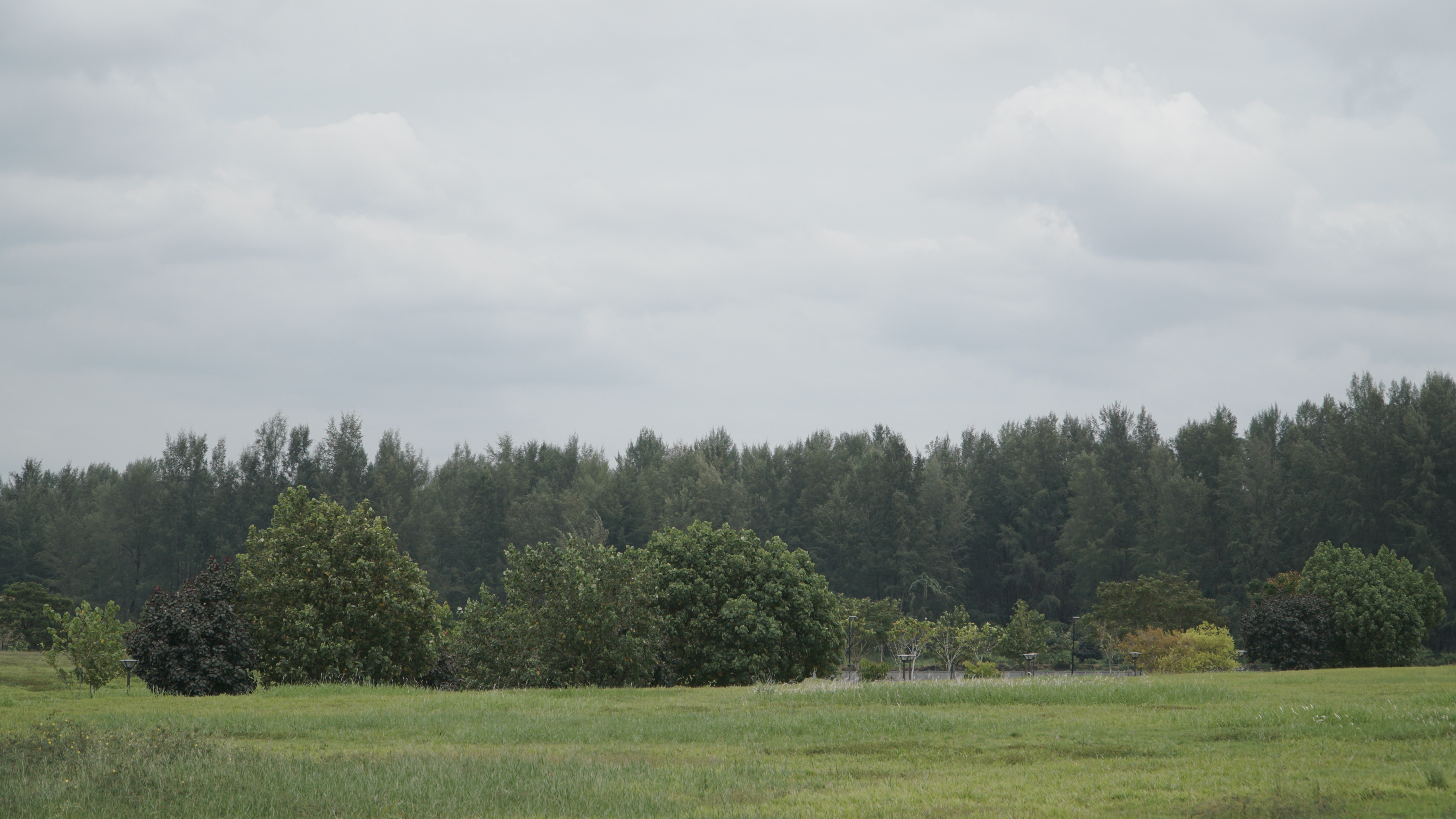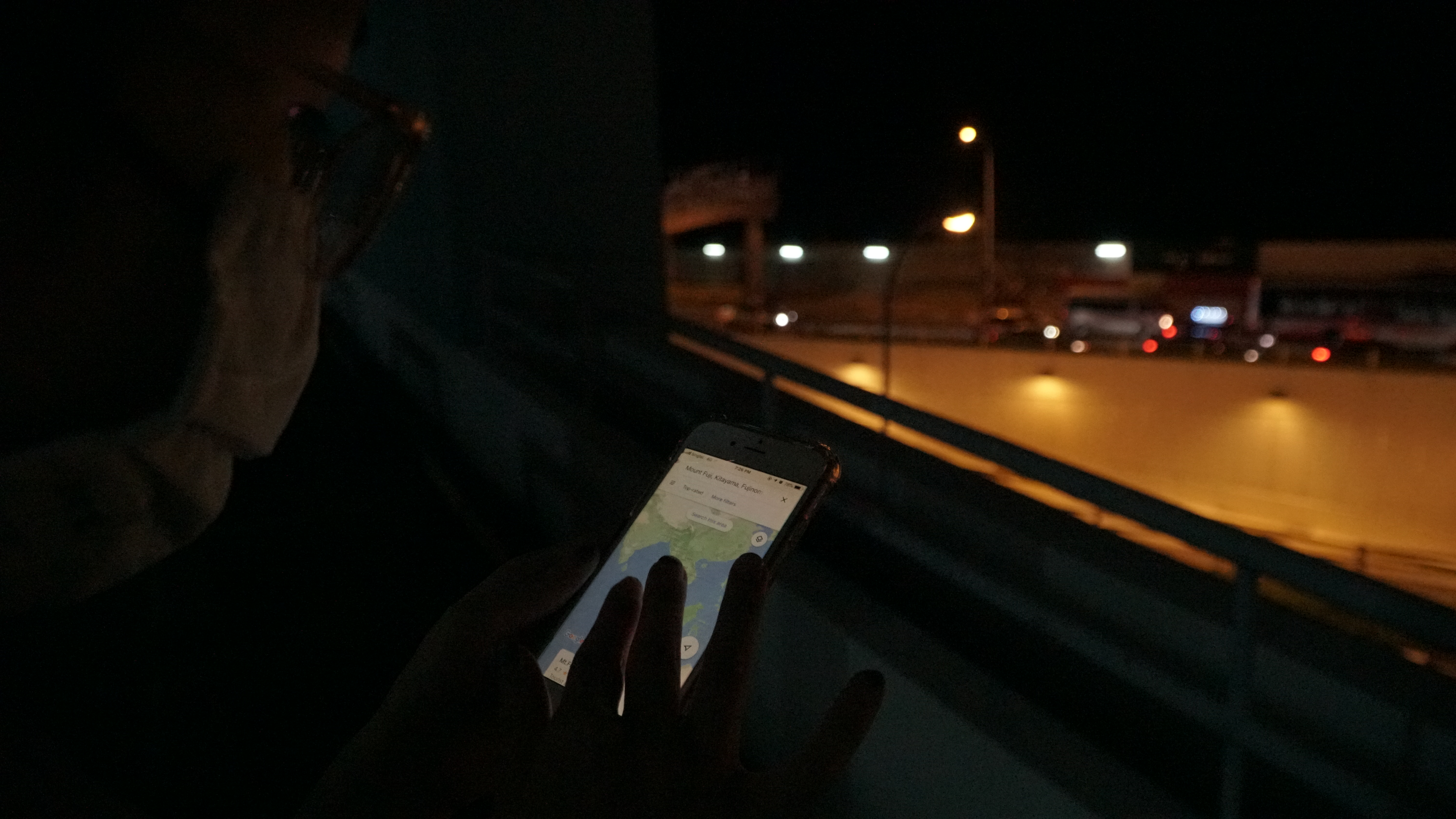 Tomorrow's Islands
shapes of togetherness

(2019)
---
Tomorrow's Islands
is an installation-performance about movement, connection, and attention. Using land reclamation as a subject, the work treats the migration and compaction of sand as a metaphor for the displacement and reconstitution of community, reflecting on the potential and challenges of communality amidst congregation.
How, if at all, does physical proximity translate into emotional connection? How does a place become a home? What risks do we take in being vulnerable? And when coming together is too difficult, what possibilities for solitude remain?
Collaborators: Kei Franklin,
Jungsuh Sue Lim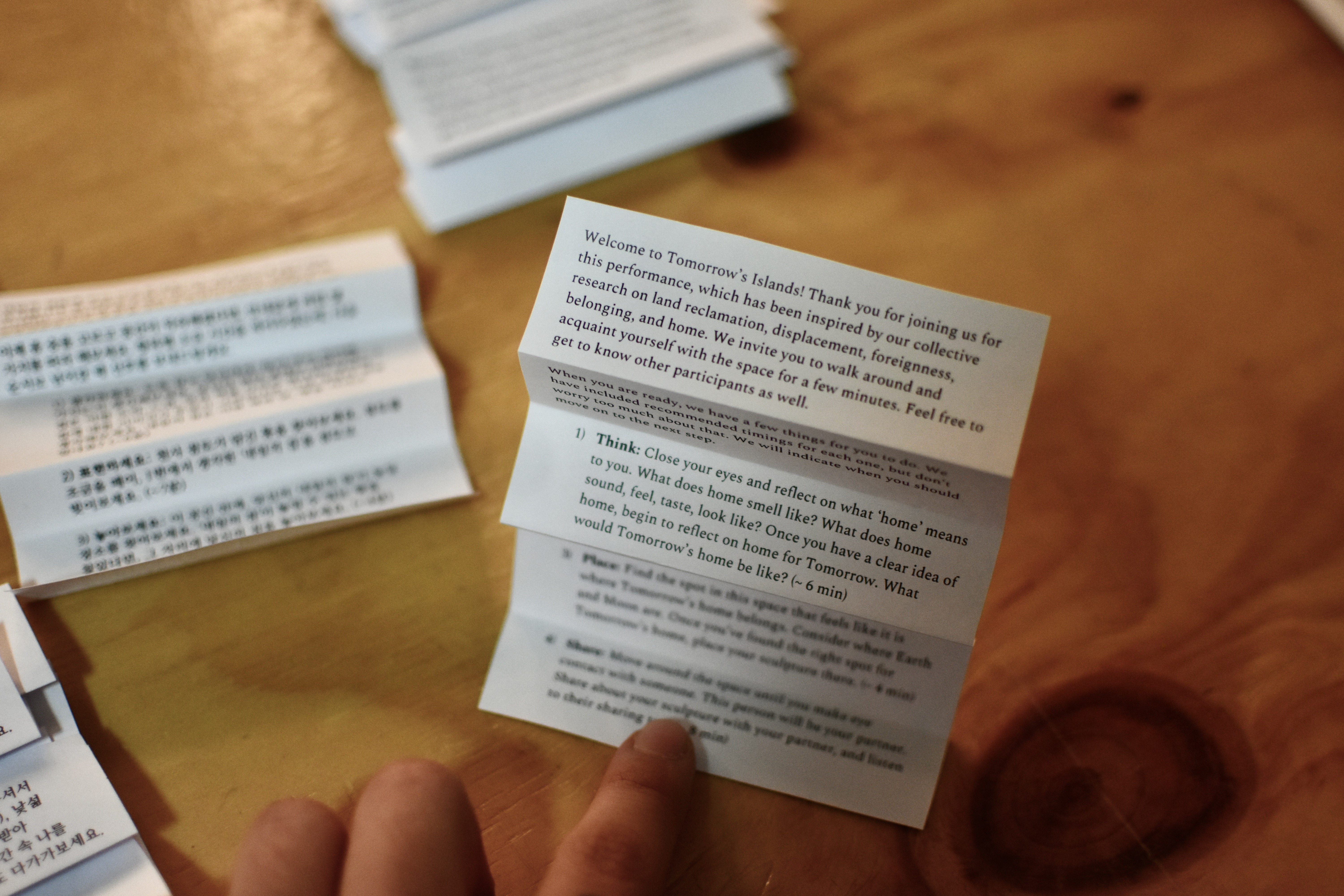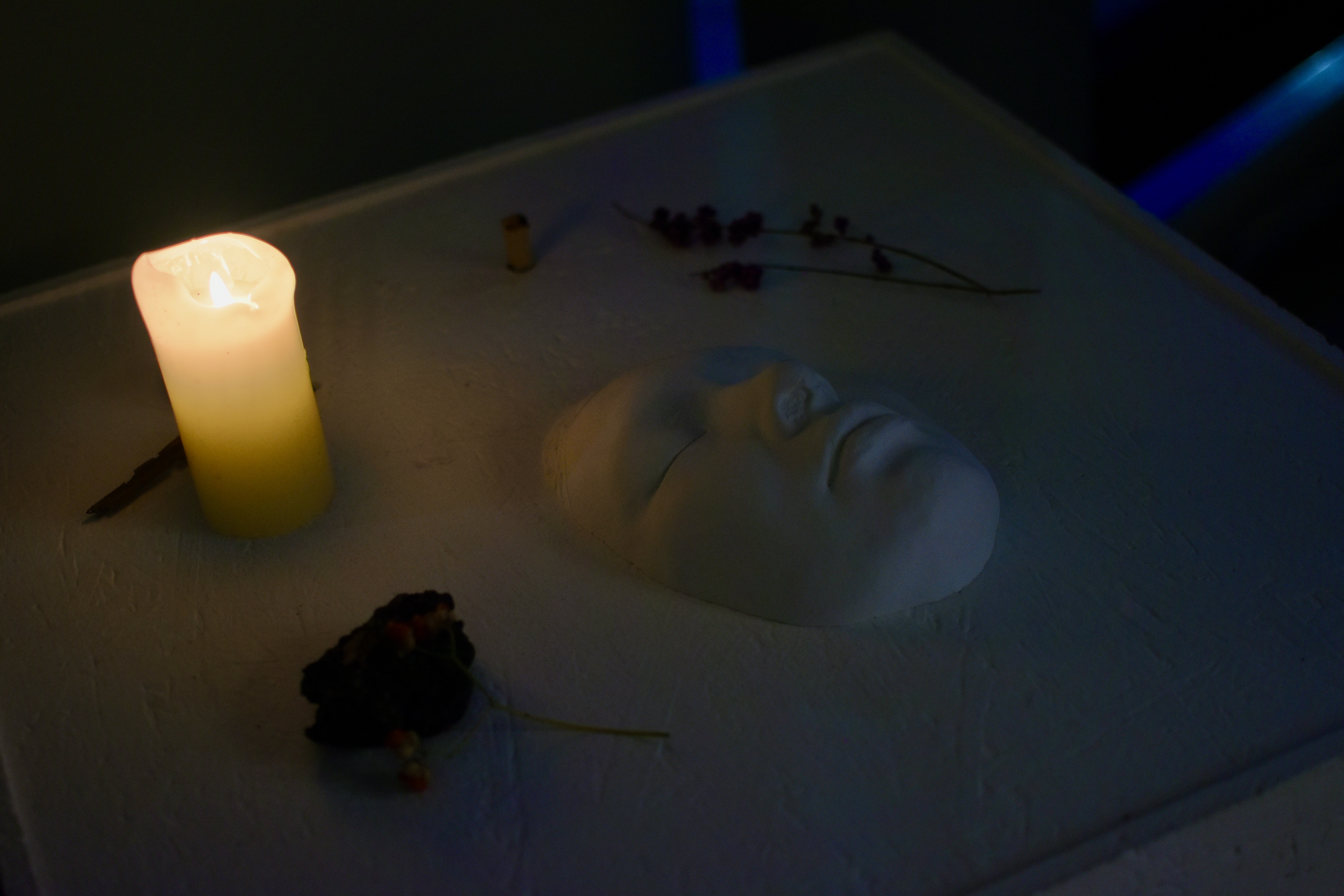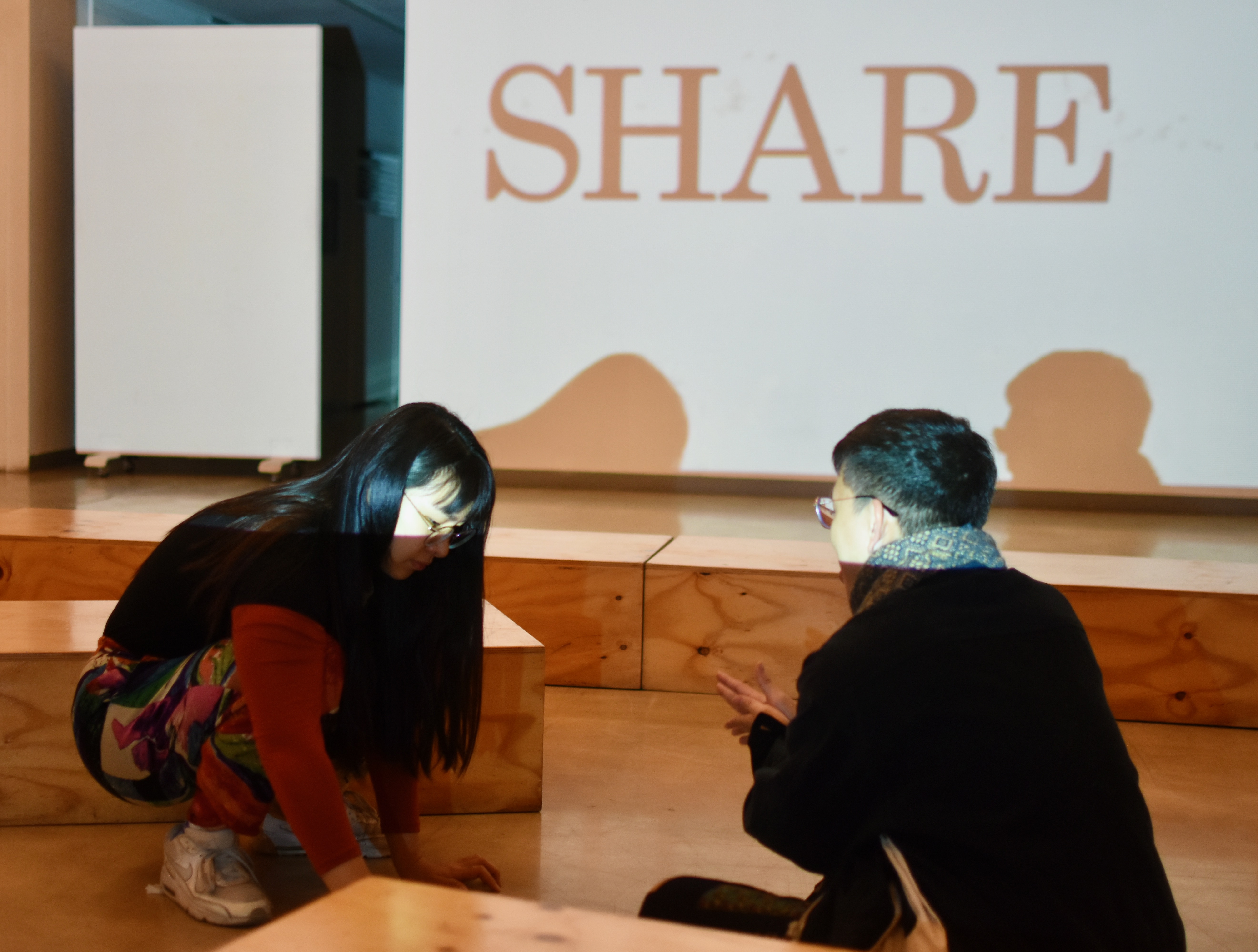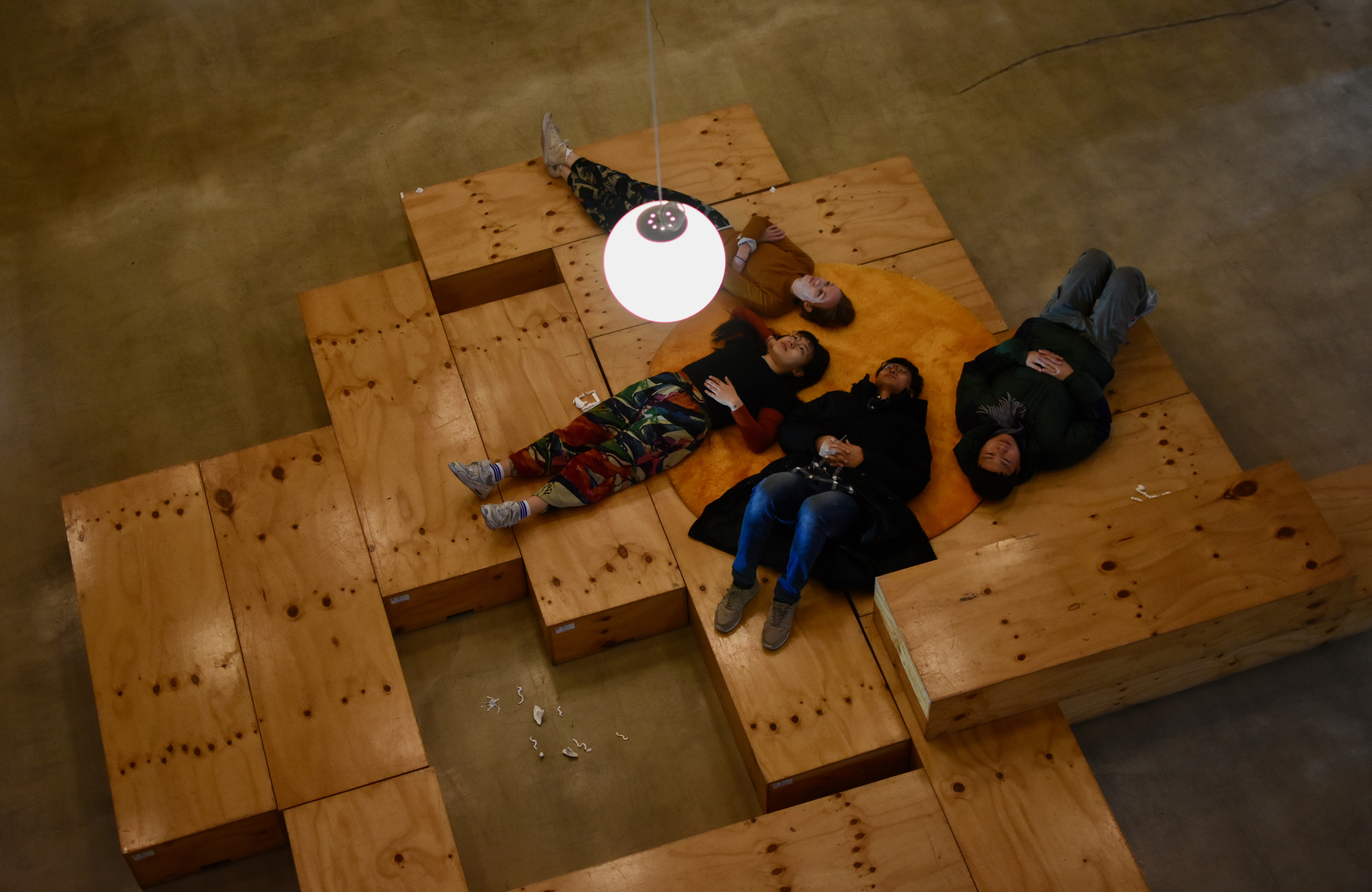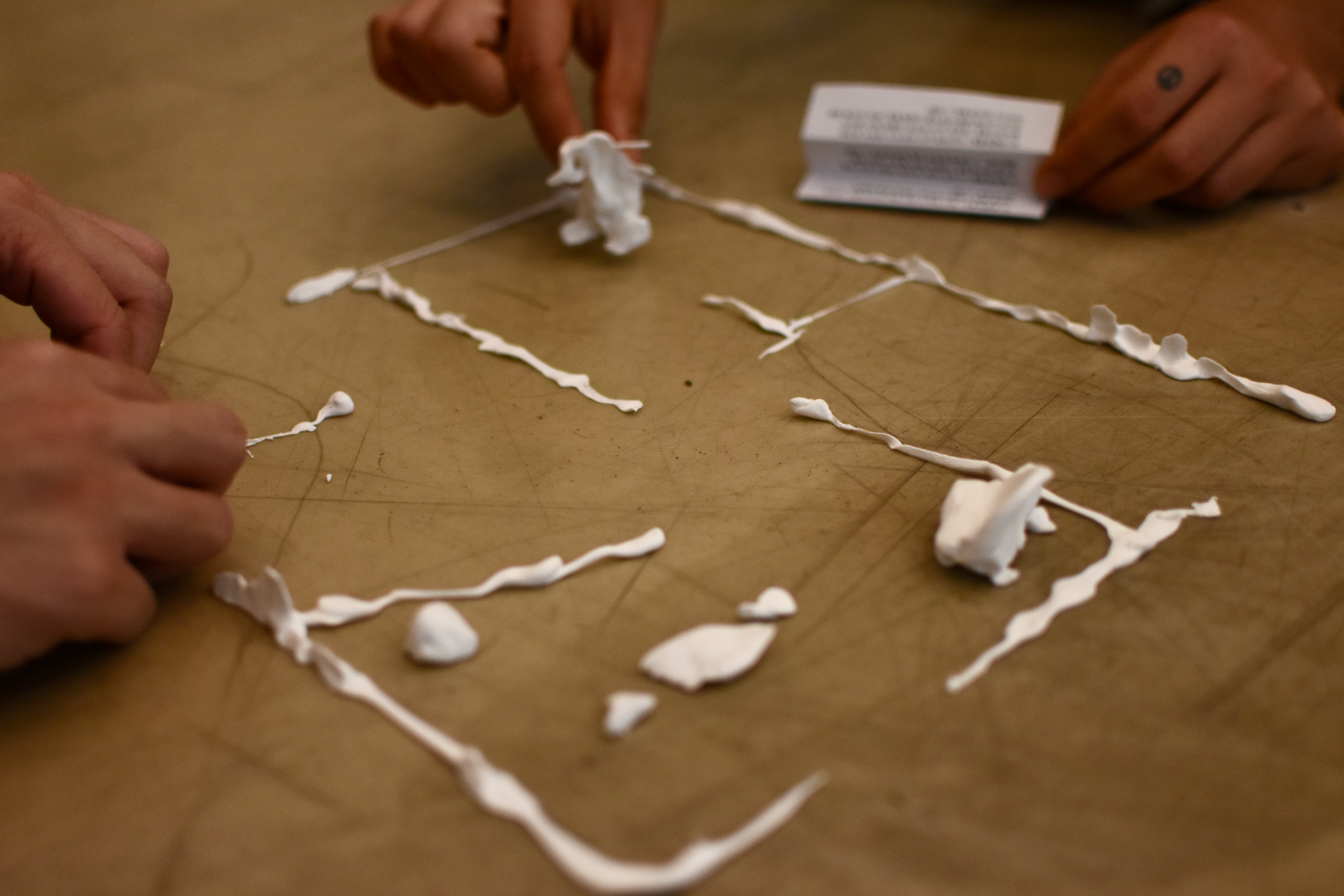 What Comes After
together, rebuilding
(2019)


---

What Comes After is a participatory-performance created for Understanding Risk Field Lab 2019, an arts and technology un-conference on disaster risk management in Chiang Mai. Invited by co-organiser NTU Earth Observatory Lab, I created a work building off scientific and ethnographic material gathered by other researchers. Made with two other artists, the final work unfolded in two parts: 1) a communal, guided walk with an audio track, done blindfolded, followed by 2) a short workshop on rebuilding a community post-crisis.

Every flood is different, and urban disasters are both natural and social phenomena. Experiences of disasters differ along racial, gender, socioeconomic, geographic lines. When floods happen, informal housing by narrow tributaries are first to be submerged. To walk against surging waters, some used raffia string to tie themselves together, hugging fences and walls to maintain footing. A school of fish washed up into a lady's house during a flood; she decided to care for them. Elsewhere, researchers visited a temple to learn of Thorani, a female water goddess. When demons approached Bodhisattva to disrupt his meditation, Thorani twisted her long hair to create floods to wash the demons away – so the story goes.

Above are but some accounts, myths, and ethno-fictions incorporated into the final work. But the performance also contains a future-facing turn: participants were tasked with creating a blueprint for rebuilding the community. After tragedy, how should people regroup? What actions and values should they prioritise? Post-rupture, what new possibilities arise?

I worked with research material from different disciplines, each with their own principles of knowledge accumulation, generation, and communication. I learnt that what makes sense, value, and meaning differ across disciplines – and I bear that in mind too when working across artistic mediums. Making the work was also an exercise in trusting the performance as a therapeutic vessel: to contain our collective efforts and contradictions, and provide a headspace for participants to contemplate and make meaning in their own ways. After the work was done, I had the opportunity to speak to several participants, many of whom were researchers whose data we used. In those conversations, I was reminded that the momentum of live works spills beyond the performance, extending into the active engagements and discussions we can actively choose to have thereafter.

Collaborators: Kei Franklin, Jungsuh Sue Lim
Image and footage credits: Rachel Siao

This work was exhibited as part of Chiang Mai Urban Flooding Field Lab, an arts and technology un-conference exploring design practices in disaster risk management.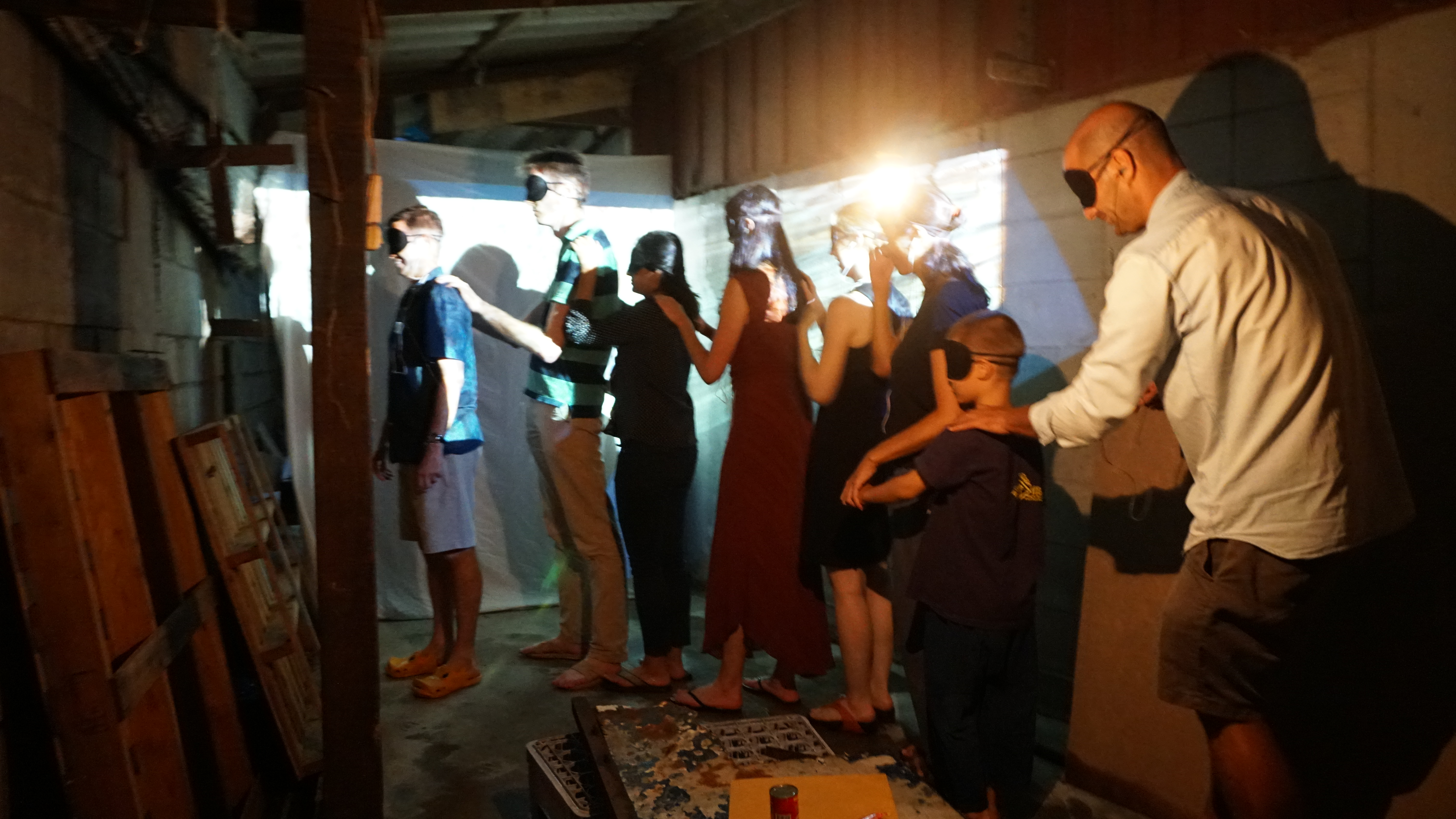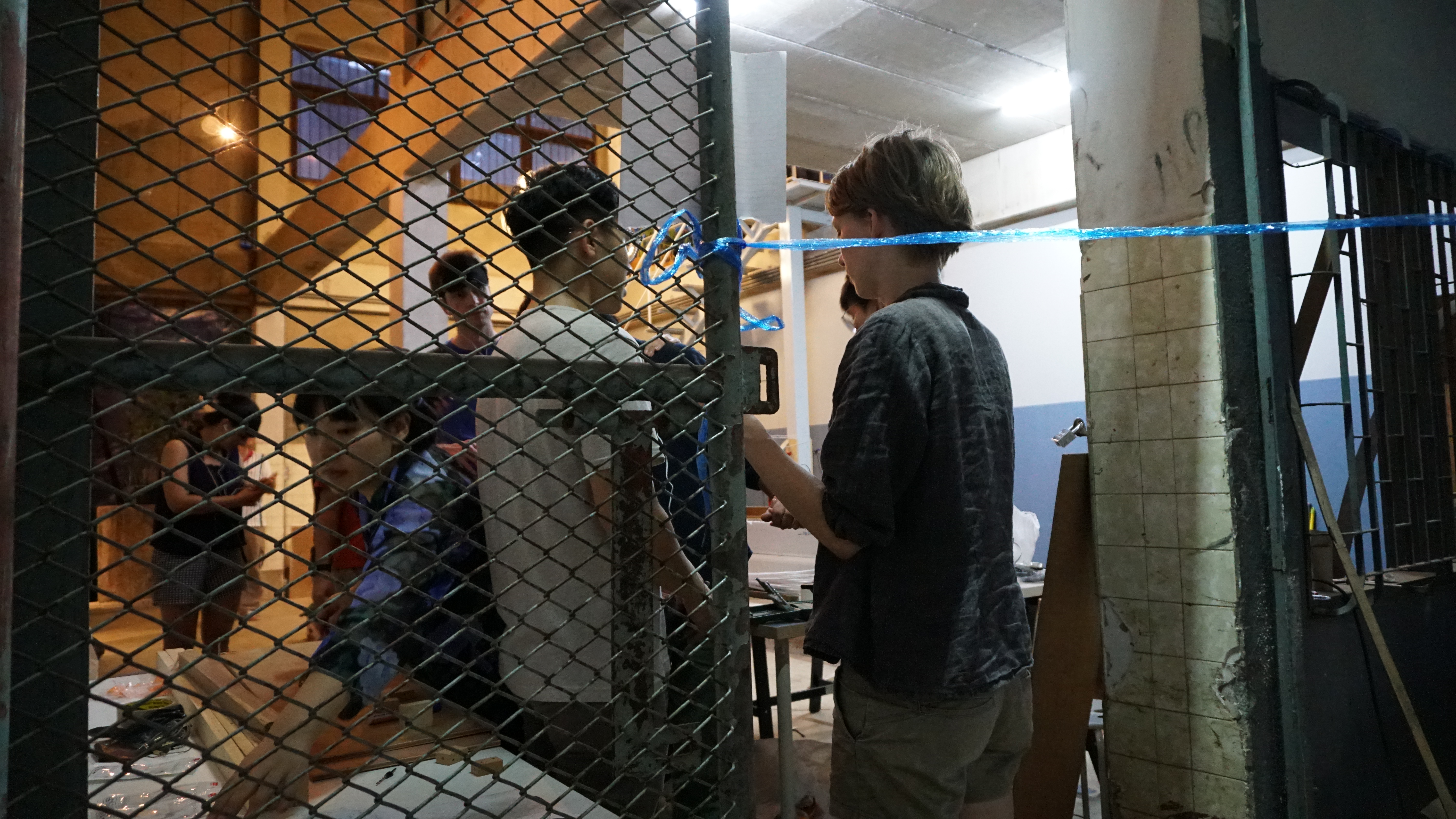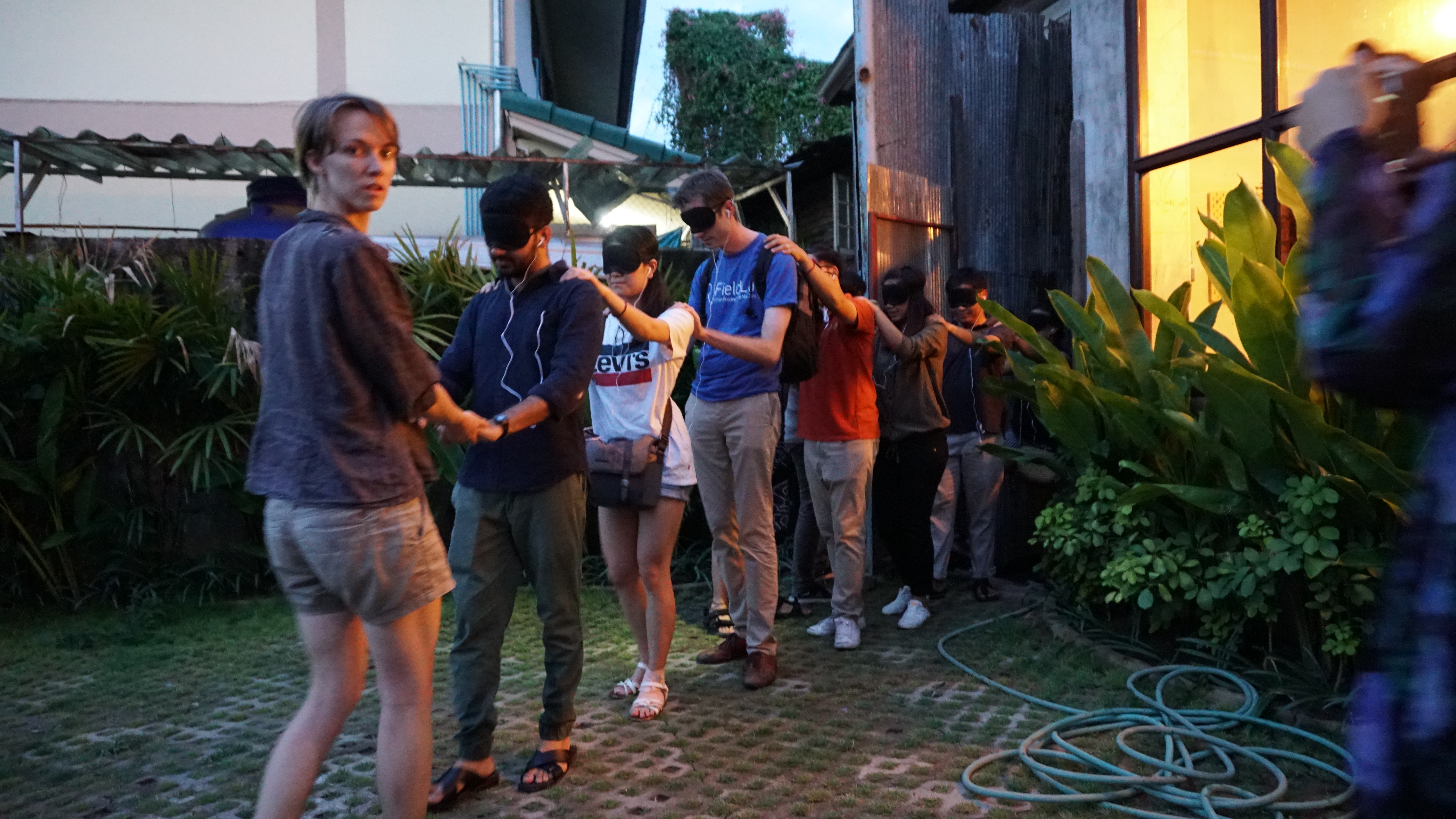 Songs of Companionship
the (in)eloquence of togetherness
(2019)
---
Songs of Companionship
is an audiovisual installation about loving and communicating love. It is a reflection on the relationships, dependencies, and engagements with those dear to us—the emotions certain and tentative, gestures given and withheld, and gambles won and lost. How do we speak to the ones we love, and how do we speak of love? What will tomorrow bring, and who will be around?
Within the work are objects trying to "speak", to express something, in one form or another. Among them are tunes composed and recorded by the artist, hidden within the folds of radio broadcast. The songs lie in wait, mingling with neighbouring frequencies. As they emerge from the static, they clumsily share their confessions to a crowd of strangers, and all the words come falling out.
Enginnering support: Jonas Chandra
Animation assistant:
Janel Ang
First exhibited:
Esplanade Flipside Festival 2019
.